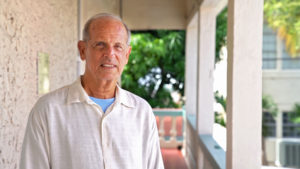 Patrick Mansell came to Riverside House in August of 2017 after spending forty-three months at the Federal Prison Camp (FPC) in Pensacola, FL. His eyes were opened and a smile came into his heart when he realized that the courteous staff was there to help him without judgment. 
Patrick spent just over three months at Riverside. He was scheduled to leave in early October, but Hurricane Irma had other ideas. This event slowed his departure by a couple of weeks while the staff, with a number of volunteering guests, worked on the cleanup from the storm.
In mid October Patrick was released to home confinement and remained in that status for about four months. He was released to probation on February 20, 2018, and on February 19, 2021 he was released from probation and given his discharge. Totally free at last.
Since roughly 1995, Patrick has been a writer of novels and full-length non-fiction books. His main areas of interest are in sportfishing and criminal justice. Since leaving Riverside House he has written eleven books, seven of which have been published, and five of which are for private collections. His works can be viewed on his website and are available on Amazon in paperback and can be downloaded as ebooks. 
Patrick is a witness to the fact that there is life after prison. The best course to pursue is to do the time, come out whole, and leave that experience in the rear view mirror.